Stage Illumination at the Symphony Hall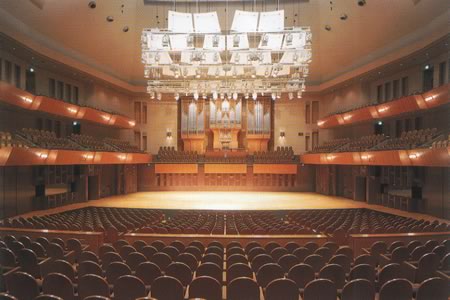 Photo 1 Hall
Outline
The Symphony Hall — a full-scale concert hall designed especially for classical music performances and featuring an authentic pipe organ — opened in 1982 after extensive renovations (Photo 1).
Lighting Fixtures

Photo 2
Lighting control room
For the main spotlights, remote-controlled lighting equipment with exceptional operability was installed out of consideration for the lighting operation environment in this concert hall. Two main types of equipment were installed; the first, in addition to remote-control pan, tilt, and focus functions, features a remote-control scroll-type color changer function; the second type features "barn door" flaps on the top, bottom, left, and right, each of which can be opened and closed independently by remote control. The fixtures can be controlled using a control panel in the lighting control room (Photo 2) or using a portable control device, enabling wireless operation from the stage or from the audience area.
| | |
| --- | --- |
| Capacity: | 1,704 persons |
| Equipment [Stage side]: | 3φ4 W 300 kVA |
| [Audience side]: | 3φ4 W 120 kVA |
| Stage: | Frontage: 24.0 m,Depth: 12.0 m,Height: 20.0 m |
Location
Osaka City
Design
administration Taisei Corp.
Client
Asahi Broadcasting Corp.
Completion
August 2000
Materials provided by
Association Member Yoshiji Baba (Marumo Electric Co., Ltd.)
© Marumo Electric Co., Ltd.; 2000