Lighting Design of "WATERRAS"[Tokyo]

Figure 1 Outside lighting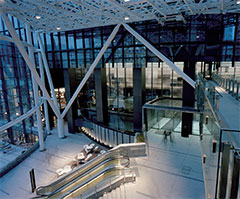 Figure 2 Atrium space lighting

Figure 3 Façade lighting
Brief summary
"Waterras" is a type-1 urban development project that achieves harmony between residential, commercial and business facilities, enhances cultural and exchange functions that form the basis of the community, and provides open spaces and comfortable walking spaces.
Location: Tokyo, Tokyo Prefecture
Completion: February 2013
Owner: Owner: Awajicho Nichome Seibuchiku Shigaichi Saikaihatsu Kumiai
Business Cooperation: Yasuda Real Estate Co., Ltd.
Designer: AXS SATOW Inc., IWAI LUMIMEDIA DESIGN
The documents were provided by Hiroshi Ishihara(AXS SATOW INC.)
Copyrights for Figures 1 to 3 are reserved by Hiroshi Ishihara
*This text is an excerpt from the "Lighting Design" published in the journal of the IEIJ, Vol.99 No.1, 2015. It contains descriptions in more details for the lighting facilities. The current operation may differ from that in the journal.