Illuminations in Goeido, Shinshu Otani-ha Higashi Honganji [Kyoto]

Figure 1 A view from Sankeiseki (in Goeido)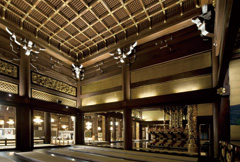 Figure 2 A view from Naijin (in Goeido)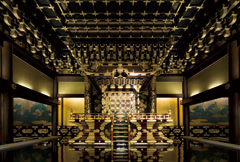 Figure 3 Shumidan facade (in Goeido)
Brief summary

Fig.4 After cleaning(Hex-head lantern)
Goeido is a major Buddha hall in the reconstructed Shinshu Otani-ha head temple in 1895, which is the largest wooden architectural structure in the world surpassing Todaiji Temple great Buddha hall.
The subjects of lighting facility were a proper illuminance not to spoil the atmosphere of the hall, an employment of high efficient device like Hf fluorescent lamp and a reduction of the waste by cleaning of lighting fixtures.
Location: Shimogyo-ku, Kyoto Prefecture
Completion: August 2009
Owner: Religious Organization Shinshu Otani-ha
Designer: Nikken Sekkei Ltd.
Construction: De-live, Inc.
This material is provided by Tomoko Mizutani(Nikken Sekkei Ltd.)
Copyrights for Figures 1 to 4 are reserved by Nikken Sekkei Ltd.
*This text is quoted from "Lighting Data Sheet" published in the journal of the IEIJ, Vol.94 No.7, 2010. It contains descriptions in more details for the lighting facilities. The current operation may differ from that in the journal.