Lighting of SHINONOME CANALCOURT CODAN ( Tokyo Metropolis )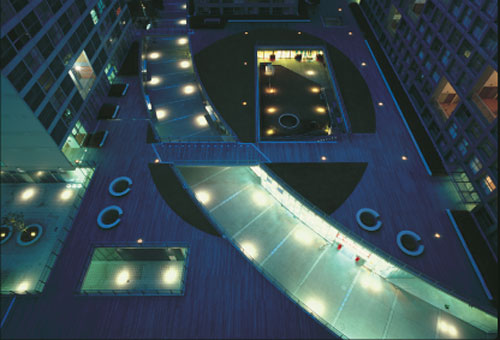 Photo 1: An S-shaped walkway
Brief summary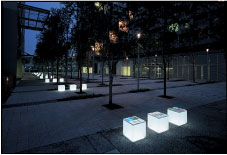 Photo 2:
A common area vista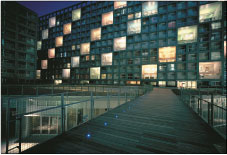 Photo 3:
A residential block seen over
a pedestrian deck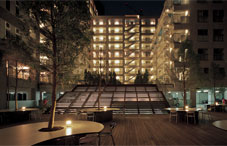 Photo 4:
Common corridor seen over
a common area
The Shinonome Canal Court CODAN, which is located at the center of 16.4 hectars in the Shinonome area development, is a housing complex aimed at creating a new living space. Five architects, who designed five buildings independently, collaborated with the landscape designer, illumination designer, and signage designer to realize their innovative ideas and proposals, free from traditional concepts. The town's nighttime landscape was created by a unified illumination method that integrated the residential blocks, open spaces, and walkways between residential blocks, and that tried new things such as common corridors with unseen light sources and LED light sources, featuring energy conservation and long life, thus suggesting the future direction for the housing complex.
Location: Koto Ward, Tokyo
Completion of construction: March 2005
Client: Urban Renaissance Agency
Basic design by:
Block 1: Riken Yamamoto & Field Shop
Block 2: Toyo Ito & Associates
Block 3: Kengo Kuma & Associates and Research Institute of Architecture
Block 4: Yama Architects & Partners
Block 6: Kenchiku Design Studio and Yamamoto Hori Architects
Illumination design: Reiko Chikada Lighting Design, Inc.
Landscape design: Studio On Site
Signage design: Hiromura Design Office Inc.
Materials provided by Mizuho Ohashi (Matsusita Electric Works, Ltd.)
Photographs 1, 2, and 4 provided by the Urban Renaissance Agency
Photograph 3 provided by Matsusita Electric Works, Ltd.
*This text is quoted from "Data Sheet of Illumination" in the Journal of IEIJ Vol.89 NO.10 October 2005. The journal article contains a description of the illumination system.