Chair, Domestic Committee of the Lighting Conference of China, Japan and Korea,
Yoshitaka Kenmotsu
We really appreciate your contributions to the Lighting Conference of China, Japan and Korea. The domestic lighting societies of three eastern Asian countries made agreements to establish and hold the annual international conference on lighting science and engineering in 2007. The 1st conference was held in Beijing, China in 2008, and then the subsequent conferences have also been held in Japan and Korea. The conferences have provided the delegates the places to exchange the valuable information, as well as the chances to nourish the students and the young engineers by the earnest and fruitful discussions with veteran researchers and engineers.
In 2015, we will have the 8th conference on the campus of Kyoto Womenís University, Kyoto, Japan. Last year, we changed one-day conference to one-and-half-days conference to address the increasing number of presentations. Since the 3rd conference in Seoul, Korea, we have awarded the delegates who reported the distinguished advancements in the filed of lighting science and engineering, as well as encouraged the students who gave their presentations.
The present conference is titled, "Creating Comfortable Lighting Environment", where all the delegates actively will talk about the future lighting environments which will be realized with the technological advancements of solid state lighting(SSL). We hope many delegates to join the conference and submit the papers to each domestic committee office.
1) Date and Venue
Date: August. 20(Thursday)-21(Friday),2015
Venue: Kyoto Womenís University
35 Kitahiyoshi-cho, Imakumano, Higashiyama-ku,
Kyoto City, Kyoto 605-8501, Japan
http://www.kyoto-wu.ac.jp/index-e.html
2) Theme of Conference
Creating Comfortable Lighting Environment
3) Presentation Category
Oral Presentation with 15 minutes
Short Oral Presentation(Poster Presentation with 5 minutes Oralís)
Poster Presentation only
Note: Every presenter needs to mark own category on the Application Sheet.
Presenters in Short Oral Presentation sessions must prepare Powerpoint slides and poster.
4) Abstract and manuscript preparation
Abstract and paper submissions have been closed.
Paper Manuscript Style:
Either 2 full pages or 4 full pages made by downloaded form
Deadline of Application and Abstract Submission: May 7, 2015
Abstract form
Deadline of Full Paper Submission: June 30, 2015
Paper form
The abstract and the paper manuscript made by Word and PDF forms should be sent to your domestic society(CIES, KIIEE and IEIJ offices). Please refer to individual societyís web page or periodical journal or any other media for further information. The paper committee members of each society will review every submitted abstract and paper manusctipt.
China: http://www.lightingchina.com.cn/news/44007.html
Japan: http://www.ieij.or.jp/event/2015/2015CJK.html
Korea: https://www.kiiee.or.kr/html/sub08_1.jsp?ncode=a002&num=68
5) Preparation for Oral Presentation
Presenters must prepare for the slides with Microsoft PowerPoint.
Slide should be prepared in Microsoft PowerPoint 2010 or lower formats.
total 15min (presentation 12 min plus discussion 3 min )
6) Preparation for Short Oral Presentation
Presenters must prepare for the posters and the slides with Microsoft PowerPoint.
Slide should be prepared in Microsoft PowerPoint 2010 or lower formats.
Total 5 min (only presentation)
7) Conference Program
8) Poster preparation
Poster size shall be 70cm(width)◊90cm(height), and must be prepared in English.
9) Awards
The best paper presentation awards,
The best poster presentation award,
The studentís encouraging award
Note: All short presentations will be candidates for the best presentation awards.
10) Registration Fee(per person): Cash Payment method for all nations
General Members : JPY¥20,000
Students : JPY ¥10,000
Accompanying Person : JPY ¥10,000
Note: These fees include the followings:
Program only for participants in the Conference
Lunch(on August. 21,2015) at the Conference
Banquet(on August. 21,2015).
11) Conference map
12) Information on Kyoto
Kyoto is an old capital of Japan. The Emperor had lived in Kyoto until the 19th century. Then he moved to Tokyo. Kyoto has many traditional cultures. There are two reasons for this. Kyoto became the capital in the 8th century, since then has been the center of Japanese culture for a long time. And Kyoto could outlive during several wars. So we can still enjoy the many old buildings(shrines, temples, machiya, etc.), gardens and artworks. There are seventeen World Heritage sites in Kyoto. Kyoto has been a big city and has new aspect such as many modern buildings etc.
If you spend some time there, you will see many beautiful historic sites.
There are Sanjyu-sanngenndou, Tijyakuin, Myouhouin, Kiyomizudera, Kyoto National Museum, etc. located within walking distance of Kyoto Womenís University.
"WASHOKU" is traditional dietary cultures of the Japanese and recognized by UNESCO as an intangible cultural heritage.
Please visit the site(http://www.kyoto-magonote.jp/en.html/) and take in the sights with delicious cuisine "WASHOKU".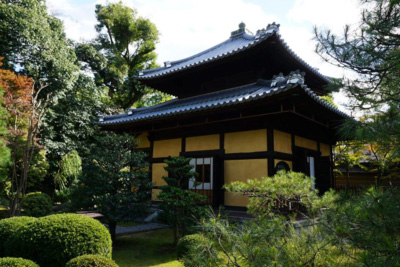 Letís find the places of interest in Kyoto here.

13) Transportation
From Kansai International Airport to JR Kyoto Station
Limousine bus
Kansai Airport Terminal 1 No.8 Running every 30~40minutes, the bus travels about 90 minutes.
Kansai Airport Terminal 2 No.1 Running every 30~70minutes, the bus travels about 105 minutes.
JR railway
Running every 30~60minutes, It takes about 80 minutes by limited express "haruka" through service.
From JR Kyoto Station to Kyoto Womenís University
Route 1(Cyuoguchi Exit): Take City buses no.206, 208 or 100. Get off at the "Higashiyama-Shichijo" bus stop;from here you can walk to k.w.u. within 5 minutes.
Route 2(Hachijo-nishiguchi Exit): Take the Princess Line bus for about 10 minutes and get off at "Kyoto Joshi Daigaku mae" bus stop, located on campus.
14) Accommodation(around JR Kyoto Station)
•RIHGA Royal Hotel Kyoto
1 Taimatsu-cho, Shiokoji-sagaru, HigashiHorikawa-dori, Shimogyo-ku, Kyoto 600-8237, Japan
Use the free shuttle bus, about a five-minute ride. The shuttle leaves daily, every 15 minutes between 7:30 and 21:00, from the Shinkansen Hachijo-higashiguchi exit on the first floor of JR Kyoto station.
TEL:+81-75-341-1121 FAX:+81-75-341-3073
E-MAIL:kyoto-main@rihga.co.jp
URL:http://www.rihga.co.jp/kyoto
•New Miyako Hotel
17, Nishikujo-Inmachi Minami-ku, Kyoto 601-8412, Japan
Located right in front of JR Kyoto Station(the "Hachijo-nishiguchi Exit")
TEL:+81-75-661-7111 FAX:+81-75-611-7135
http://www.miyakohotels.ne.jp/newmiyako/
•Hotel New Hankyu Kyoto
Located right in front of JR Kyoto Station(the "karasuma-cyuuoguchi Exit")
TEL:+81-75-343-5300 FAX:+81-75-343-5324
http://newhankyukyoto.hh-hotels.jp
•Kyoto Tower Hotel
Located right in front of JR Kyoto Station(the "karasuma-cyuuoguchi Exit")
Karasuma Shichijo Kyoto 600-8216 Japan
Tel:+81-75-361-7261 Fax:+81-75-343-5645
http://www.kyoto-tower.co.jp/tower_hotel/index.html
•Hotel Keihan Kyoto
31, Higashikujonishisannoucho, Minami-ku, Kyoto 601-8003 JAPAN
Located right in front of JR Kyoto Station(the "Hachijo-higasiguchi Exit")
TEL:+81-75-661-0321 FAX:+81-75-661-0987
http://www.hotelkeihan.co.jp/kyoto/