Report on "the 15th International Symposium on the Science and Technology of Lighting" as one of the Illuminating Engineering Institute of Japan 100th Anniversary Projects
(Originally released in Japanese ahead)
LS15 Local Organizing Committee
The 15th International Symposium on the Science and Technology of Lighting (LS15), the objective of which is providing an opportunity for Japanese researchers to show their achievements on the science and technologies of lighting to the world and also for researchers from all over the world to present, learn and discuss their studies each other directly, was held at Kyoto University from May 22nd to May 27th in 2016. It is concluded that LS15 was very much successful owing to a lot of support.
Sponsored by
The Illuminating Engineering Institute of Japan (IEIJ, Main Sponsor)
Foundation for the Advancement of the Science and Technology of Light Sources (FAST LS, a non-profit entity registered in the UK for supporting LS series, Co-Sponsor)
Graduate School of Engineering and Faculty of Engineering, Kyoto University (Co-Sponsor)
In cooperation with
Japan LED Association (JLEDS), Japan Lighting Manufactures Association (JLMA), Japan National Committee of CIE (JCIE), 125th Committee on Conversion between Light and Electricity and 162nd Committee on Wide Bandgap Semiconductor Photonic and Electronic, both in the Japan Society for the Promotion of Science, Kyoto Prefecture, and Phosphor Research Society in the Electrochemical Society of Japan
Venue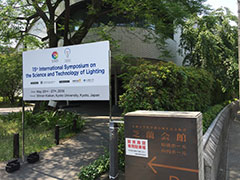 Shiran-Kaikan (Kyoto University) having Inamori Hall and Yamauchi Hall
Participants
Totally 214 (including 9 accompany persons)
By country: Japan-137, China-21, France-9, Germany-6, the USA-6, Taiwan-5, Italy-5, Korea-4, Belgium-4, Hungary-3, Russia-3, etc.
Number at previous LS14 was reportedly 211, yet it is uncertain to include accompany persons or not.
Papers
Totally 150 (134 at LS14)
By country: Japan-75, China-25, France-8, Italy-6, Germany-4, the USA-3, the UK-3, Russia-3, Malaysia-3, etc.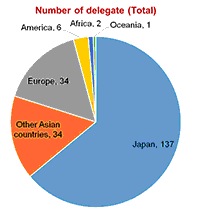 Participants
Papers
Symposium Outline
On Sunday, 22nd, Dr. Sugawara, President and CEO of QD Laser, Inc. and Mr. Matsushita from Susumu Matsushita Architecture & Lighting Design Labo. gave Keynote Lectures, and then followed by Welcome Reception.
On Monday, 23rd, Prof. Matsuki, the Chair of IEIJ gave a congratulatory address in Opening Ceremony. Then, the main conference sessions started and Get-together Party was held at night.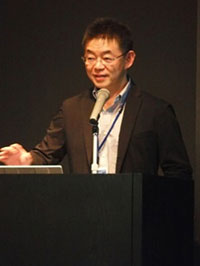 Dr. Sugawara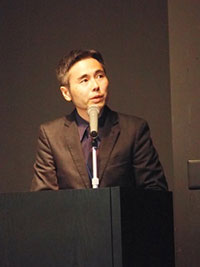 Mr. Matsushita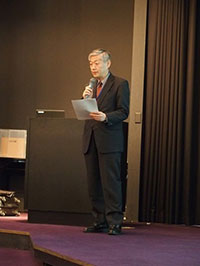 Prof. Matsuki, the Chair of IEIJ
A session had basically 2 aural sessions and a poster session in between. Aural sessions comprised Invited Lectures and Landmark Lectures. Each day started with a Plenary Invited Lecture listed below, and Parallel Sessions using Inamori Hall and Yamauchi Hall and Tutorial Sessions were scheduled.

23rd (Mon) Mr. Uchihashi, Executive Managing Director of JLMA
24th (Tue) Dr. Ohno, the Chair of CIE
25th (Wed) Prof. Kishino, Sophia University
26th (Thu) Dr. Poppe, Budapest University of Technology and Economics
27th (Fri) Dr. Matsuda, Nichia Corporation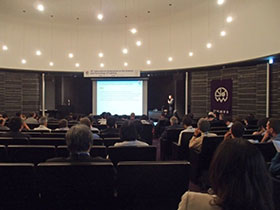 Inamori Hal (the main hall)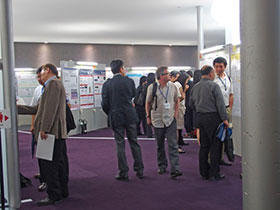 Poster session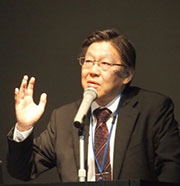 Mr. Uchihashi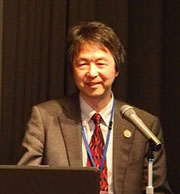 Dr. Ohno
Prof. Kishino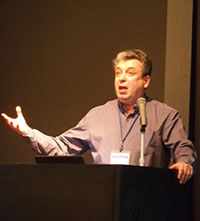 Dr. Poppe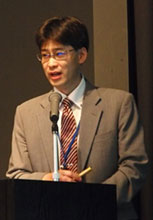 Dr. Matsuda
The afternoon of Wednesday, 25th was free, but some applicants visited Horik's Washi (Japanese traditional paper) Showroom. Banquet was held at the restaurant, Kiyomizu Higashiyama at night.
On Friday, 27th, Prof. Noda from Kyoto University and Prof. Amano from Nagoya University (awarded Nobel Prize 2014) gave Special Lectures as in the IEIJ 100th Anniversary Projects. These lectures only were open to Kyoto University students for free. Finally, Closing Ceremony was held. The remembrance was given to Dr. Kamiya, who was Vice Chair of LS7 held also in Kyoto in 1995, to thank his enormous contribution to LS series in long years. It was announced that the next LS16 would be held in the UK.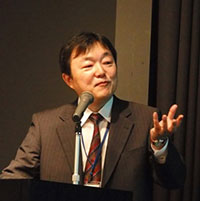 Prof. Noda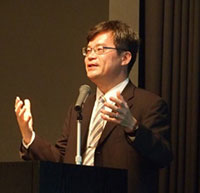 Prof. Amano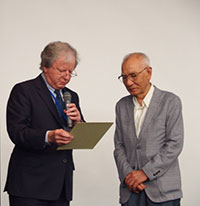 Dr. Devonshire, the Chair of FAST-LS (left) and Dr. Kamiya (right)
Sponsors' Exhibitions
Platinum: NEXCO Engineering Shikoku, Nichia Corp., SAES Getters S.p.A, Ushio Inc.
Gold: Iida Lighting Co. Ltd., Ootsuka Electronics Co. Ltd., Soma Optics Ltd.
Bronze: Ushio Lighting Inc.
Funds
Tateishi Science and Technology Foundation: ¥1,000,000
The Japan World Exposition 1970 Commemorative Fund: Max. ¥1,200,000 (deficit covering)
Kyoto Convention & Visitors Bureau

Kyoto Culture for Meetings & Events Subsidy: ¥292,734
Subsidy for Holding Small Scale MICE Events: ¥125,000

(MICE: Meeting, Incentive Travel, Convention, Exhibition/Event)
Banquet
Totally 99 people enjoyed the feast and program.
By country: Japan-45, China-17, France-7, the USA-5, Germany-4, Belgium-4, Russia-3, Hungary-3, Taiwan-3, etc.
Maiko (Japanese traditional dance girl, see the picture) showcased their performances, which were supported by a subsidy from Kyoto Convention & Visitors Bureau.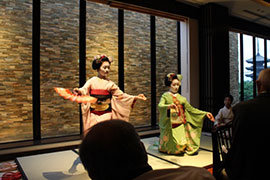 A scene from the banquet program
Dr. Devonshire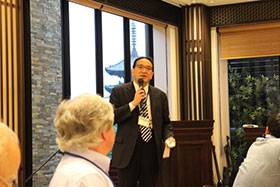 Prof. Kawakami, the Chair of Local Organizing Committee
Support
We acknowledge the support from IEIJ Headquarters and Kansai Branch for reception.